In this post I want to tell you about the importance of installing a VPN service on our devices, and protect ourselves from the misuse of our personal data. In particular I want to talk about CyberGhost VPN, one of the best VPN service in the market in terms of speed and protection, already used and tested by over 10 million users worldwide.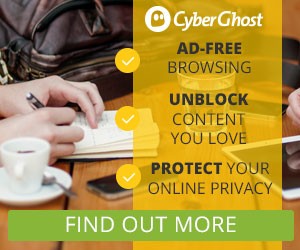 After the Cambridge Analytica scandal, one of the hottest and most controversial topics of this period is undoubtedly the issue of personal data and tracking of our online behavior.
Therefore the full and total awareness of the data is placed on top of scale of values.
Read carefully the privacy policies and cookies policy within the websites we visit can very often makes the difference.
Now I'm guessing your most common thoughts, that read endless words, written in small font, is a so "fuc… boring" activity.
Everytime we surf or register in some website, we leave informations and traces of our passage that later can be used by hackers or government agencies to create "tailor-made" news that guide – or even manipulate – our political or commercial thinking.
Furthermore, public WiFis leave our most personal data exposed to risks; and all we need is extra protection.
In that chaotic jungle, a VPN can solve many issues. VPN is a software that can protect our privacy and allow us to surf in complete safety.

CyberGhost VPN is one of the best VPN service on the market in terms of speed and protection. Let's see some of the ways a VPN can help us:
1- Hide our IP
Our original IP address will be replaced with one from the CyberGhost network, making it impossible for third parties to track us online.
2 – Access Restricted Websites
No more censored or geo-restricted content. By connecting to the secure CyberGhost servers, we gain access to content from all over the world.
3 – Safe Online Transactions
With CyberGhost VPN, nobody will be able to pry into our personal conversations, browsing history or online transactions, even on public WiFis.
4 – Fully Encrypted Internet
Our online activity will be encrypted with the 256-AES bit technology. Thus, it may take someone thousands of years to hack into our data!

Share it, if you like this post!:)